SOS Signs of Suicide Prevention Program Parent Meetings via Zoom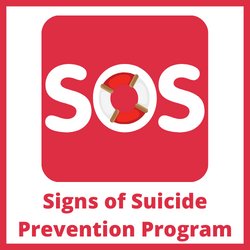 What

SOS Signs of Suicide Prevention Program Parent Meetings via Zoom

When

3/29/2022
We are holding two optional SOS Signs of Suicide Prevention Program Parent Meetings via Zoom on Tuesday, March 29 at 1 PM and again at 6 PM. Our school's participation in this program is in response to
Assembly Bill 2246
which requires schools to provide a suicide prevention program to students grades 7 through 12.
HVS 7th and 8th grade students will participate in the SOS Prevention Program on Tuesday, April 12. They will watch age-appropriate video clips which discuss depression, suicide, and what to do if they are concerned. Students will also complete a short self-screening form and a response indicating whether they are interested in talking with someone or not.
During the parent meeting we will provide links to the content and documents to be shared with students as well as resources for trusted adults. The same information will be shared at both meeting times and we will provide all families access to the slide deck.
7th & 8th Grade Parents - Check your email for the Splash Newsflash sent out on 3/28/22 for the Zoom link.

Copy to Google Calendar
•
Download iCal Event