TK/K/New Student Registration Portal Opens at HBCSD.ORG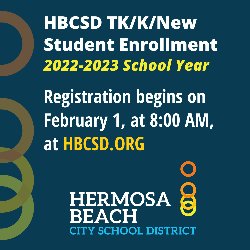 What

TK/K/New Student Registration Portal Opens at HBCSD.ORG

When

2/1/2022, 8:00 AM
TK/K/New Student Enrollment for the 2022-2023 school year begins this week! Our Registration Portal will open
on Tuesday, February 1, at 8:00 AM for NEW STUDENTS to the District at HBCSD.ORG.
The enrollment system is for Hermosa Beach residents only. If you reside outside of Hermosa Beach and are interested in applying for a permit to attend an HBCSD school, please click
here
for more information. Current students who will be returning to HBCSD in the fall will be required to complete "Back to School Paperwork," which will be required at a later date.
Copy to Google Calendar
•
Download iCal Event